Bose QuietComfort Earbuds is the best in this price range & most of the earbuds are available in high price range but sound quality and more feature are not available but this earbuds are best at this time.
Introduction
How long does it sometimes take for devices to be delivered for review. A little background on this. I asked for these headphones in the spring of this year. But for various reasons beyond my influence, they only arrived in the middle of summer. When I lived in the country Managed to get the bus at that time.
A similar situation happened last year and this year with the agency responsible for equipment from brands like Audio-Technica, Cown, KOSS etc. Nothing came of correspondence: it seems. That they agreed, but at the stage of selecting equipment for reviews, the agency's representative stopped responding to emails and messages in the "cart". It's a shame, because the agency had an impressive list of audio equipment. About which I would like to tell you. Theoretically, headphones and players can be bought from the store, but that's another story.
Back to the BOSE QuietComfort Earbuds. They are supplied in a large cardboard box. which is not fixed in the closed state. It is inconvenient to store such a "container": the top label with information about the gadget does not hold, and the box simply consists of two parts. By the way, about the same case on the Sony 1000XM4: opened and then did not assemble, and thrown away pathetic.
The case was also of great size with the headphones. At least twice as much as any modern TWS box. But first things first.
Bose QuietComfort Earbuds Price
Despite the fact that the device has been in our market for a long time. It is still on sale. The price is high – in the region of $279 USD. Naturally, you can get twice as cheap on Avito or Julia in good condition.
In India Bose QuietComfort Earbuds approx ₹26,900.
Bose QuietComfort Earbuds Specifications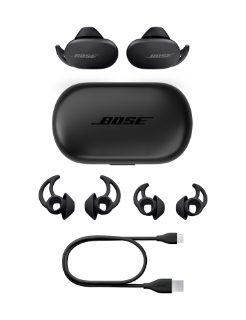 2 Bose QuietComfort® Earbuds (fitted with size 2 eartips)
Charging case
Small and Large eartips
USB-C (A to C) charging cable (12″)
Quick start guide
Safety sheet
Dimensions/weight
Earbuds:1.54″ H x 1.02″ W x 1.06″ D (0.3 oz each)
Charging case:1.25″ H x 3.5″ W x 2″ D
USB cable:12″
Materials
Earbuds: Plastic/gold plating/polymer coating
Eartips: Silicone
Case: Hard plastic
Battery
Battery life: Up to 6 hours
Earbud battery charge time: 2 hours
Charging case battery charge time: 3 hours
Quick-charge time: 15 minutes for 2 hours
Battery charge method: USB-C or Qi certified wireless charging pad
Battery type (earbud): Lithium-ion (metal-enclosed coin cell)
Battery type (case): Lithium-ion (pouch cell)
Automatic on/off feature to preserve battery life
Microphones
Bluetooth
Bluetooth range: Up to 30 ft (9.144 m)
Bluetooth version: 5.1
Codec: SBC and AAC
Appearance and usability
After testing out various compact TWS headphones, the BOSE just seemed like a monstrous device to me. which somehow still remains in the auricle. The specifications specify a weight of 8.6 grams, but it is not. Each earphone weighs about 10 grams! Remind you that the weight of such devices is on average 5-6 grams.
However, when boSE is inserted into the oracle. So the weight of the headphones is almost not felt. Yes, you understand that there is something heavy in the ears. But this does not cause inconvenience: the equipment does not fall out. Do not hang under the weight of their weight. There is also no spring effect (this is what happens when you shake your head from side to side and repeat this movement as springs).
Another problem is installation in oracle itself. The process is not the most pleasant. People who like earbuds. They definitely won't be using the QuietComfort Earbuds. Naturally, it is worth "playing" with the ear cushions. But there are in-ear headphones.
After about two hours of continuous use, you start to feel a slight discomfort in the ear canal, you may want to remove the BOSE headphones for a while. Overall it's fine. I also took the Huawei FreeBuds 4 out of my ear from time to time. Although they are included.
The case for the QuietComfort Earbuds had to be hidden in a backpack, as the case didn't fit into a jeans pocket or a summer windbreaker. In general, carrying such a device with you in the summer is a burden. In winter, the case can be stowed in a warm jacket pocket.
In itself, the case is made very qualitatively. On review I had white, ivory. For a month, nothing happened to her, not even the scratches were "plants". I didn't see any friction.
Bottom Line: Be prepared for the fact that the BOSE QuietComfort Earbuds are really big headphones. Even though they sit nicely in the auricle, you may want to take off for a while after a few hours.
How to control the Bose QuietComfort Earbuds
Bose's earbuds feature touch controls only, and since the series of taps and swipes aren't always intuitive, we made a table of the controls below.
| ACTION | LEFT SIDE | RIGHT SIDE |
| --- | --- | --- |
| Two taps | Cycle through favorites (ANC modes) | Pause/play music |
| | | Pickup/end phone call |
| Hold | Skip song | Access smart assistant |
| | Check battery level | Reject incoming calls |
| Remove/insert | Pause/play music | Pause/play music |
| | Auto Transparency mode (remove) | Auto Transparency mode (remove) |
| Swipe | | Volume up/down |
Opening hours
For the last three months I lived in the country and went to the office by train and subway. The whole way took me about 3 hours, if all the time intervals coincided with the minute per minute according to the schedule.
Before leaving, I put on boSE QuietComfort Earbuds and rented them only in the office. During this time, the headphones were discharged to 60% (approximately, sometimes with a discrepancy of each "ear" by 5%). Next, I would put the devices in the case and put them back on the way back.
Thus, the charge of the case was enough for me for about 3 weeks (given that I went twice a week). In short, I was pleased with the time of work.
By the way, I forgot to say that I collected this data with noise cancellation turned on. Without it in the train and subway to go extremely hard. And the case supports Qi charging.
About sound
And that's where the interesting story begins. Before the BOSE headphones came to me, I tested several TWS devices like the Huawei FreeBuds 4i/4, honor Earbuds 2 Lite, and a few more. During this time, I got used to their sound. As a rule, it was a bright and expressive sound that is great for most users. That is, they give you an understanding: here are the bass, and here are the high frequencies. Kind of like on a TV show: at the right time, the assistant director raises a sign that says "claps his hands" or like in sitcoms you hear voice-over laughter and realize that it was a joke, and you should have laughed too.
With QuietComfort Earbuds, the situation is completely different. Here you need to listen to the sound at first and delve into the nuances of the melody. Actually, that's why in the first week I didn't take BOSE seriously: what kind of flat sound, where is my deep bass, where are my favorite "cicals"?
However, I am a stubborn person, so I forcibly forced to use QuietComfort Earbuds to understand why a potential buyer gives 25,000 rubles – twice as much as any other TWS headphones cost.
And after a couple of weeks of BOSE/Huawei/Honor/Apple comparisons, I felt the difference in boSE's favor. It's not to describe in words how much better they play than all those gadgets that I had in use.
Headphones QuietComfort Earbuds do not tell you where you need to hear bass or high frequencies, you yourself feel it, the melody is not embellished with artificial improvers, it plays naturally, cleanly, correctly.
And at some point you realize that until today you listened to music perversely, where headphones of other brands "said": so, here we will raise the bass, here we will slightly lower the middle, and at the moment we will "season" with high frequencies.
And that's when I realized why BOSE is asking for 25,000 rubles! Of course, not only for the sound quality, but also for noise reduction. It's the best here, among all the TWS headphones I've had on my tests. Huawei FreeBuds Pro came close in this regard, but they still do not "press" noises as effectively as QuietComfort Earbuds.
When you put on BOSE, you stop hearing the sounds around you. That's it. Even in the vestibule of the train, you do not experience discomfort from the noise of the wheels of the car, constantly chatting "traveling salesmen", offering you to buy raincoats or socks made of natural yak wool for 100 rubles 10 pairs.
If you compare noise cancellation, only with BOSE QC 35 II. Unfortunately, I did not listen to SONY, so I can not say anything good or bad about them.
This model QuietComfort Earbuds is perfect as a headset. The interlocutor hears you perfectly, as if you are talking on the phone.
Impression
If you often and for a long time ride the subway and / or train, then you will not find the best headphones. Yes, the price is huge, but the sound quality and power of the "noisemaker" here are excellent. Frankly, I was impressed! It seemed to me that only large over-ear or full-size headphones could reach such heights. But I gradually abandoned these, due to the fact that the area around the ears begins to sweat, and I do not want to carry something bulky with me.
Our Team, 100% recommend QuietComfort Earbuds for purchase!
Read More:
Source: